IBSurgeon Log Viewer foi projetado para facilitar a visualização e análise de arquivos de log longos do Firebird e Interbase. Muitos desenvolvedores e adminsitradores Firebird e Interbase não prestam atenção suficiente ao conteúdo do firebird.log (interbase.log) apesar deles conterem muitas informações úteis que podem ajudar a encontrar e resolver muitos problemas com bases de dados Firebird/Interbase.

Originalmente o Log Viewer era uma aplicação interna da IBSurgeon's que ajudava a navegar rapidamente por longos arquivos de log do Firebird/InterBase e na versão 2.0 se tornou maduro o suficiente para que fosse liberado para a comunidade.

Instale e abra o arquivo de log do servidor (geralmente na pasta C:\Arquivos de Programas\Firebird\Firebird_n_n\). Tamb;em existem descrições para as entradas do log enviadas juntamente com o IBSurgeon Log Viewer: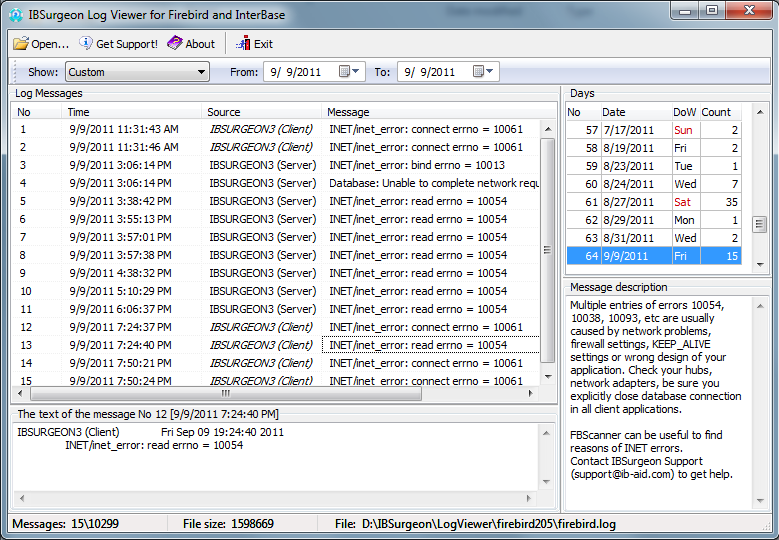 IBSurgeon Log Viewer é um FREEWARE (veja license.txt para maiores detalhes).

Feel free to contact IBSurgeon Support ([email protected]) if you see suspicious messages in your logs. Don't forget to attach log to the message!